Our journey began on the 24th September 1959 when three friends Vasilis Plemenos, George Mantis and Angelos Bouzalas printed and circulated at the Greek Kaffenia and outside the Greek Orthodox churches the first invitation calling upon all the Messinians of Adelaide to a meeting for the purpose of forming a Messinian Syllogo.
60 years ago today, that is, on the 4th October 1959, Adelaide's Messinians came together for a meeting at the classroom of the Greek School next to the "Taxiarchis" Greek Orthodox Church in Franklin Street, Adelaide to approve the establishment of the Messinian Brotherhood of South Australia and to elect a temporary five member committee for the purpose of preparing a Constitution for approval at the next meeting of the newly formed Messinian Brotherhood of South Australia.
The Constitution was changed at an Extraordinary General Meeting on 28 July 1985 to reflect the change of name from Messinian Brotherhood to the Messinian Association of South Australia Incorporated ("the Association") for which it is still known by today.
On the 19 July 1987 at a General Meeting the Association took over the former Adelaide High School soccer team and renamed it the Messinian Hawks Football Club adopting a uniform with similar colours as worn by the Kalamata Football Team.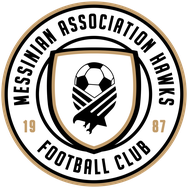 It was through the inspiration and instigation of our beloved dear friend and member, the late George Mantis that the Messinian Greek Dance School of SA. was officially established at a General Meeting on 19 August 2007.
Today, the marking of 60 years is a chance for us to remember the hard work of all our members and volunteers and to reflect on the journey so far.
The challenge for us now is to continue their good work and to uphold our Messinian traditions and transfer those to the younger generations. We pay tribute to our members and volunteers, past and present, who have worked tirelessly over the past 60 years for the benefit and continued presence of the Association and them then for their selfless devotion and continued support.
We are proud of this milestone anniversary celebration and extend our heartfelt thank you to all those who have made this amazing journey possible.
Martha Ioannides President