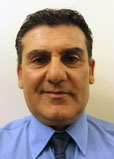 It is with deep sadness that Messinian Association of SA Inc mourns the passing of long-time Management committee member and friend George Mantis. George passed away on 24 November 2018 aged 58 years, after a valiant battle with a terminal illness.
George believed deeply in the vision and the mission of the association which he served for his entire adult life with passion and unbounded devotion. He was actively involved in all the Association's activities and worked tirelessly for their success. It is important to mention that George spent most of his childhood in and around the Association's events due to the fact that several members of his family were amongst the founders of the Association (which will celebrate its 60th anniversary this year). It was therefore not unusual that George followed in the footsteps of the founders and continued their work and service for the Messinians of South Australia.
For many years George served on the Management Committee of the Association having held the position of President and Treasurer.  But George also believed in community engagement and lent his support to the recreational and cultural activities of the Messinian Association.  In the late 80's this led George to become a player with the Messinian Association Soccer club, the MA Hawks. Passionate about soccer both on and off, George was known to his team members as 'Chichi Mendes' a name given to him because of his audacious display as the right full back for the MA Hawks. After a few years with the Soccer Club, George focussed his attention on his son Kosta's soccer path, but always would swing past the ground if there was a home game.  Later he continued his work through his role as a committee member for the MA Hawks and played an instrumental role in organizing the MA Hawks 30th anniversary event last year.
George was behind the idea to create a Messinian Dance School and on his instigation the Messinian Dance School was established in 2007. Today our dance group has grown into one of the largest Greek Dance groups in SA participating in many community festivals showcasing our Greek culture and honouring our Messinian heritage.
The Messinian Association pays tribute to the life and service of George Mantis. His passing leaves a gaping hole in the hearts of many Messianians, from his fellow Committee Members, former team members, the volunteers, the Ladies Auxiliary and his friends.
Loved by all he will be sorely missed but never forgotten.