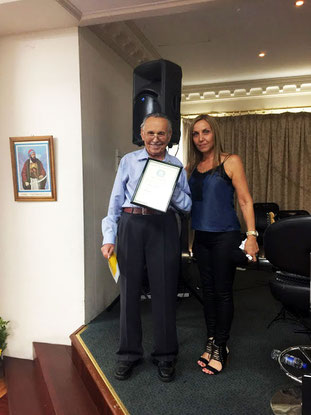 Angelos Bouzalas is one of the founders of our Association which was established 60 years ago in 1959.
At the Annual General Meeting September 17th in 2017, by unanimous vote the members elected Angelos Bouzalas to the position of Honorary President of the Messinan Association of SA .
 This appointment was announced and celebrated at the February 24th 2019 BBQ,. The Association's President Mrs. Martha Ioannides invested him as Honorary President, presenting him with a pin and certificate. 
The members of the Messinian Association have conferred this honor to Mr. Bouzalas for his unceasing commitment and efforts in making the Messinian Association one of the largest and most successful Hellenic Associations in South Australia.